Sugarcane packaging – why you should add it into your food packaging mix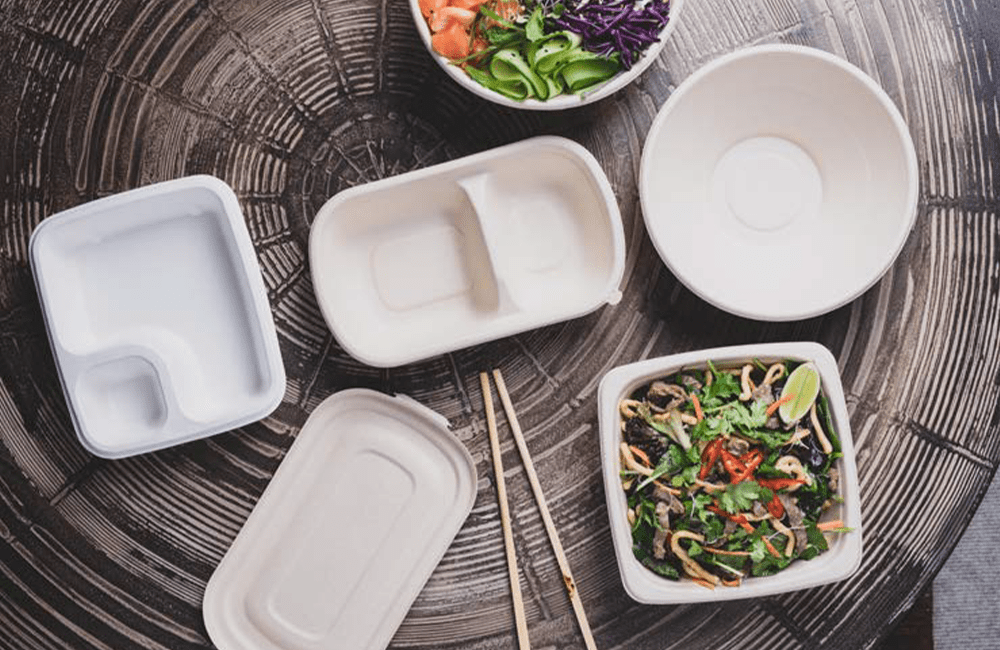 Have you added sugarcane packaging into your range of food packaging options? A popular bio choice with end consumers, sugarcane pulp (or bagasse as it is also known) has a wide range of benefits which we explore below.
With more plastic bans on the horizon, businesses involved in the food service sector are keener than ever to explore alternative food packaging solutions. To help familiarise you with this natural packaging material, we have put together this overview with some links to our BioChoice sugarcane range, so that you can offer this packaging to your customers if you haven't already.
What is sugarcane packaging and how is it produced?
Sugarcane packaging looks like cardboard however as the name suggests, it is made from sugar pulp (also known as bagasse) and falls into the category of plant based packaging. This is a material that helps to close the loop on waste because this packaging, made from plants, can be returned to the earth as food for soil that can be used for growing more plants.
Bagasse is the fibre that remains after the juice has been extracted from the sugarcane plant and is an agricultural non-edible by-product. For every 10 tonnes of sugarcane processed, about three tonnes of bagasse by-product remains, that equals about 570 million tonnes of bagasse according to 2018 world production of sugarcane crops. Until recently, bagasse was usually unused and left to rot or be disposed of.
Sugarcane packaging not only naturally decomposes in the right environmental conditions and is a renewable resource that is widely available, it has other valuable benefits both for the environment and end user that are mentioned to follow.

Practical and environmental benefits of choosing surgarcane packaging
Versatile and affordable – on a par with the costs of conventional food packaging, sugarcane packaging can be used to contain cold or hot food. It can be used in the microwave to reheat food as well as store contents in the freezer. There are a variety of packaging products produced from sugarcane pulp including cups, bowls, containers, trays, plates, boxes and even cutlery.
Lightweight and grease resistant – these benefits make them ideal for packaging greasy food that is ready to take away and transport conveniently.
Can be recycled – if commercial composting facilities are not available, sugarcane packaging is often suitable to be recycled alongside cardboard…however as with any other packaging, for it to be recycled without contamination, it needs to be clean, without any food residue.
Communicates concern for the environment – consumers associate plant based packaging with 'putting the planet first' and your choice of packaging has a direct connection with your brand and how your customers relate to it.

How to know if sugarcane packaging is right for your business?
There are two simple ways to find out if sugarcane is right for meeting your customers' needs…
1. Check out our BioUtensils products and consider how the features of these sugar pulp products suit the way your customers are likely to use this packaging. BioUtensils is the range of sugarcane packaging that belongs to our natural packaging brand, BioChoice. BioChoice has become a firm favourite with many customers looking for plant based Enviro packaging solutions. The other plant based products that come under the BioChoice brand are PLA Utensils – these are made from corn starch and are considered 'bioplastic'. They perform in a similar way to traditional plastic and look similar, however they are also derived from renewable plant material.
2. Run a trial – why not place an order as a trial to see how these natural packaging products perform for you and your customers. A small order of both plant based ranges in the BioChoice collection might be the easiest way to see which solution is best for you long term. You can even order some samples from us before you go ahead with a trial.

If after visiting our web pages you still have questions about sugarcane packaging and BioUtensils or about any products from the BioChoice collection of products, please get in touch, we'd love to help.
References:
FAO Statistics. (2022.) World Food and Agriculture – Statistical Yearbook 2020. Rome. https://www.fao.org/documents/card/en/c/cb1329en