5 good reasons to use eco-friendly food packaging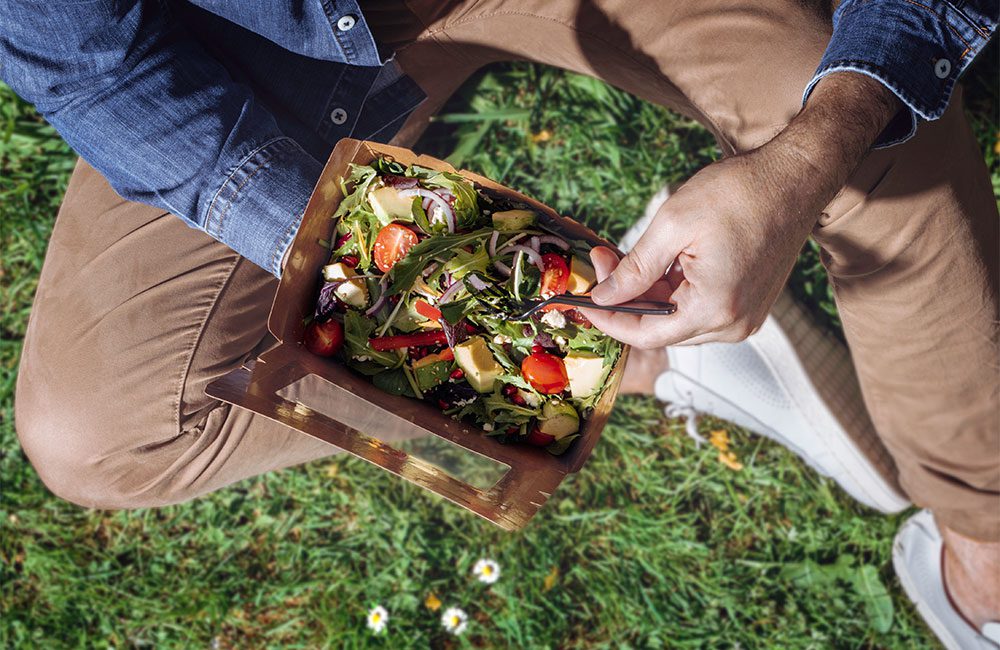 Two of our ranges under our Bonson Enviro division include products that are made from natural fibres – they are a popular choice for anyone searching for 'sustainable packaging'. CraftWare™ packaging products are made from paperboard and paper pulp and BioChoice™ is a natural sugarcane pulp packaging range. If you are not already using them to supply packaging or serve food in your business, below are 5 reasons that they are popular and why they are worth some serious consideration:
1. Created with renewable resources
Fewer carbon emissions are released during production compared with other energy-heavy resources. Sugarcane is even a by-product of food production.
2. Very versatile
Packaging products come in a lot of forms and can be safe for use in the microwave or freezer, hold liquid and withstand grease.
3. Can improve your brand image
Using eco-friendly packaging can establish your brand as environmentally and socially aware. They also help you offer a wider range of options to your own customers and may even result in expanding your customer base. You are able to meet the growing demand for this type of food packaging – studies show that customers feel more positively about a company that uses eco-friendly packaging.
4. Inexpensive and economical option
There may be a perception that eco-friendly packaging is more expensive than its alternatives — this is not always the case when all the overhead costs like shipping and storage are taken into account.
5. Have a life beyond their original use
Readily recyclable or compostable, they are part of the circular economy by being turned into more resources when they are disposed of correctly.
Whether you choose to use or supply food packaging made from natural fibres or not, it is a decision that needs to be made consciously and deliberately. Bonson is here to help you navigate your choices by providing information and options. These options include supplying a wide range of products made from a variety of materials, giving you maximum flexibility to choose a very specific set of brands such as CraftWare™ and BioChoice™ or a diverse number of ranges across all our Bonson Solutions and Bonson Enviro brands.
Whatever you choose to purchase from us, we are delighted that you have chosen to be a Bonson customer and share your goal of satisfying your customers, supporting the decisions you make along the way. It is worth remembering that whatever you select from the full Bonson branded product range is recyclable, compostable or biodegradable. You can learn more about our sustainability efforts and materials on our website.
We are here to answer your questions and ensure that you are ready-to-go with great packaging for food on-the-go. Get in touch today!
References:
1. Green Business Bureau. (2017, November 2). 10 Advantages of Green Packaging to the Environment. https://greenbusinessbureau.com/blog/10-advantages-of-green-packaging-to-the-environment/
2. Cory Levins. (2018, September 8). Five Reasons Businesses Should Use Eco-Friendly Packaging. https://www.airseacontainers.com/blog/five-reasons-businesses-should-use-eco-friendly-packaging/
3. Ian Venus. (2018, July 12). 7 Reasons Why Demand for Eco-Friendly Packaging Is Rising. https://www.packagingstrategies.com/blogs/14-packaging-strategies-blog/post/90547-reasons-why-demand-for-eco-friendly-packaging-is-rising
4. Snehal Apte. (2019, January 13). 7 ADVANTAGES OF USING ECO-FRIENDLY PACKAGING. https://www.smallbusinessbonfire.com/eco-friendly-packaging/
5. MUSKAN KAUR. (2020, November 19). THE PROS AND CONS OF ECO-FRIENDLY PACKAGING. https://lekac.com/production/the-pros-and-cons-of-eco-friendly-packaging