Bonson is now a thermoforming manufacturer with capability to produce recycled PET (RPET) food packaging in New Zealand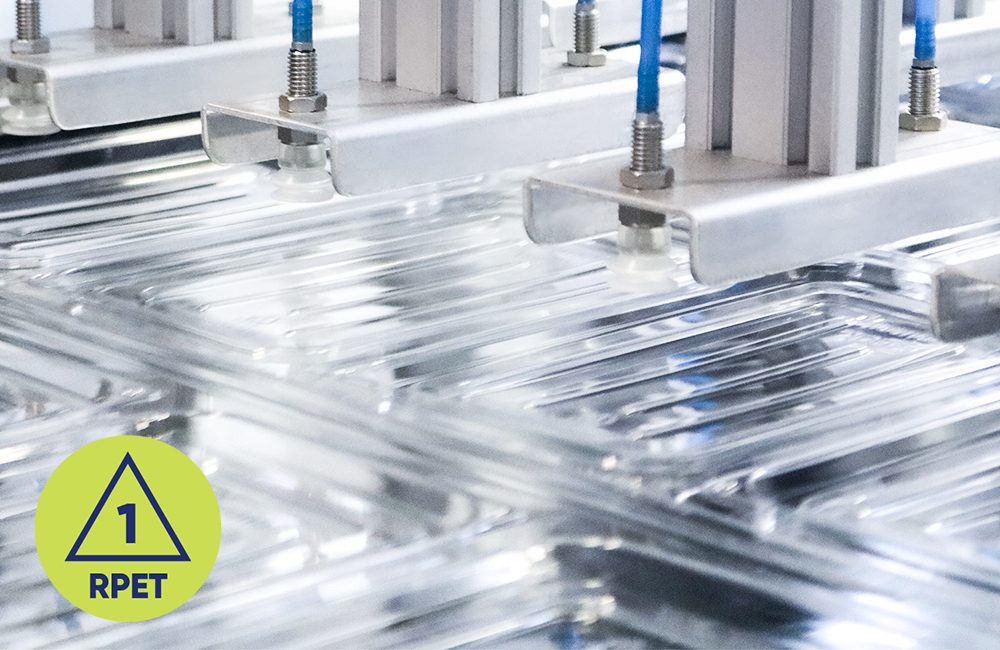 Bonson is proud to share some exciting news that we know you'll be delighted to hear because of strong feedback from our customers about consumer demand for more sustainable packaging. Sustainability is an increasing focus for everyone and we are on a mission to support Australasia's goals to reduce carbon emissions, along with other efforts to improve the future of our planet.
On our quest to continuously deliver innovative food packaging solutions, we are pleased to announce the extension of our popular RePlay™ range with brand new recycled PET (RPET) products as well as the capability to custom manufacture RPET food packaging. These advancements have been made possible by acquiring thermoforming machinery; enabling Bonson to manufacture post-consumer recycled PET plastic packaging in-house for the first time at our state-of-the-art facility. Until now we have offered imported recycled PET products through one of our Enviro brands, however, in 2022 and beyond we will gradually introduce more products that are produced in New Zealand under the RePlay™ brand. An exciting step forward in our journey towards increased sustainability and our goal of helping to create a circular economy.
What is thermoforming RPET packaging and what are the benefits of using recycled PET?
All of our Bonson-made packaging is recyclable and that in itself is a big step towards diverting packaging from landfill. You can learn about plastic recyclability here. If after recycling PET plastic, it can be used again to make other food-grade packaging products, the outcome is even better from a sustainability perspective because it gives existing materials a completely new life and purpose. Thermoforming machinery is key to make that transformation possible and is a significant investment Bonson has made not only to satisfy the demand for RPET packaging but also to keep manufacturing local. Local manufacturing will help mitigate global supply chain issues, and provide a more reliable supply to our customers at the same time as supporting the local economy.
RPET packaging shares similar features to those made with virgin PET, making it an outstanding solution for packaging food. It is clear, thin, lightweight and is backed by Bonson's packaging expertise and award-winning team. And best of all, research shows that the production of recycled PET emits 5 times less carbon emissions compared to virgin PET¹.
In line with our value of 'integrity counts', we'd like to point out that whilst we try to use as much recycled plastic in our RePlay™ range and custom-manufactured RPET products as possible, it is a balancing act. To ensure packaging performs well enough on a functional level from both a food safety and prevention of food waste perspective, the products can contain both recycled and virgin plastics of varying amounts. You can count on us to always do our best to strike the optimum balance of product performance and care for the environment, while retaining our commitment to honour our customers.
New opportunities for custom manufacturing and food services sector alike
In addition to serving the food service sector better by extending our ready-made RePlay™ range, this new thermoforming capability provides a great opportunity for food producers to leverage it to create new customised packaging for their brands. Bonson has built a top notch reputation amongst leading food brands for injection moulding & in-mould labelling (IML) expertise over the past 35 years. Now with adding thermoforming capability into the mix, it allows us to help food manufacturers who need a winning combination of innovation and reliable partnership, at the same time as addressing sustainability challenges.
You can learn more about our iterative approach with custom manufacturing here and about our world class ISO certifications, food safety and quality assurance on this page. If you are a food manufacturer and you'd like a chat with our team about how Bonson can help you demonstrate your business's commitment to quality and sustainability through customised packaging solutions, please get in touch.

Stay tuned for more announcements about new RePlay™ products
We are working hard behind the scenes to bring you an even greater variety of locally manufactured food packaging products using our new thermoforming equipment, so stay tuned for further updates. In the meantime, if you are a food packaging distributor/supplier or in the food service sector or a food manufacturer looking for customised packaging designed with sustainability front of mind, then get in touch to discuss your requirements.
If you have not already subscribed to receive our updates by email, you can do so here to make sure you hear about all the new products available soon.


References:
Prevented Ocean Plastic. (2020, June 25). RECYCLED PLASTIC: AN UNDERVALUED CARBON REDUCTION STRATEGY. https://www.preventedoceanplastic.com/recycled-plastic-an-undervalued-carbon-reduction-strategy/