Takeaway containers – what plastic is used to make them and are they recyclable?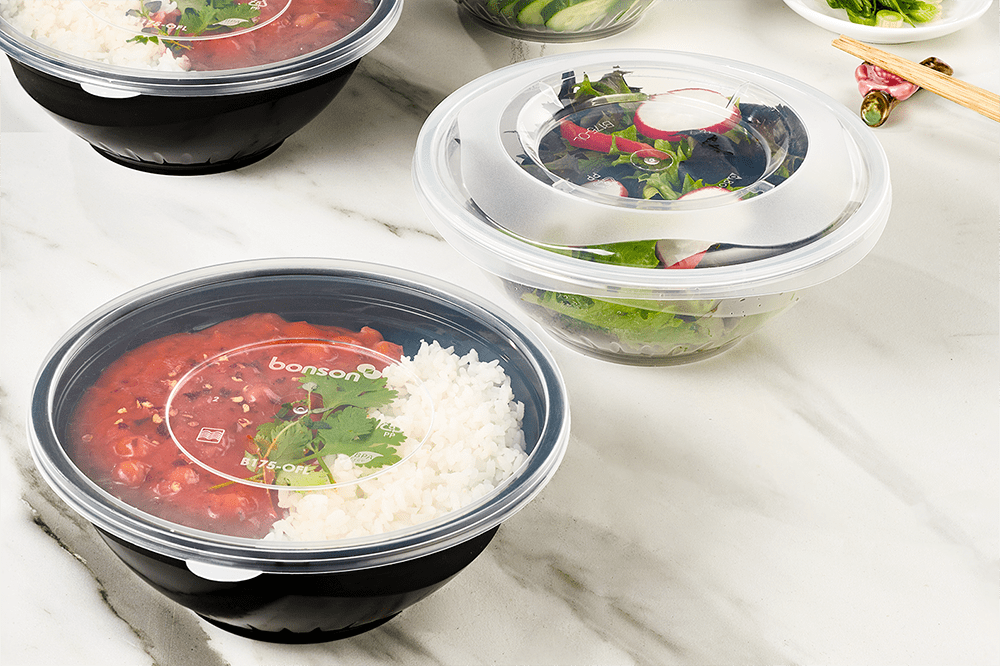 Takeaway food, as tasty as it may be, presents people in the food service industry a number of challenges. With the goal of well-presented food that can be transported safely and securely, there is a lot to consider when it comes to packaging. Often takeaway food can be quite liquid and oily, so containers need to withstand the grease, hold the heat, and avoid spills with tight-fitting lids and sturdy bases.
A range of plastics are used for takeaway containers and are all up to the task of handling the nature of takeaway food. These materials include polypropylene (PP) and Polyethylene Terephthalate (PET – both virgin and recycled).  And Polyethylene (PE) is also often used as a lining. These are all materials that Bonson uses in the food containers that it manufactures and/or supplies.
In this article we will be focusing on polypropylene (PP) – the material used in our most popular takeaway containers. To answer a common question up front, YES, they are recyclable, falling into the recycle 5 code classification. You will see these products marked as PP5 (triangle icon) on our website and marketing materials. PP5 containers are widely accepted for kerbside recycling in New Zealand.
Why are PP5 takeaway containers so popular?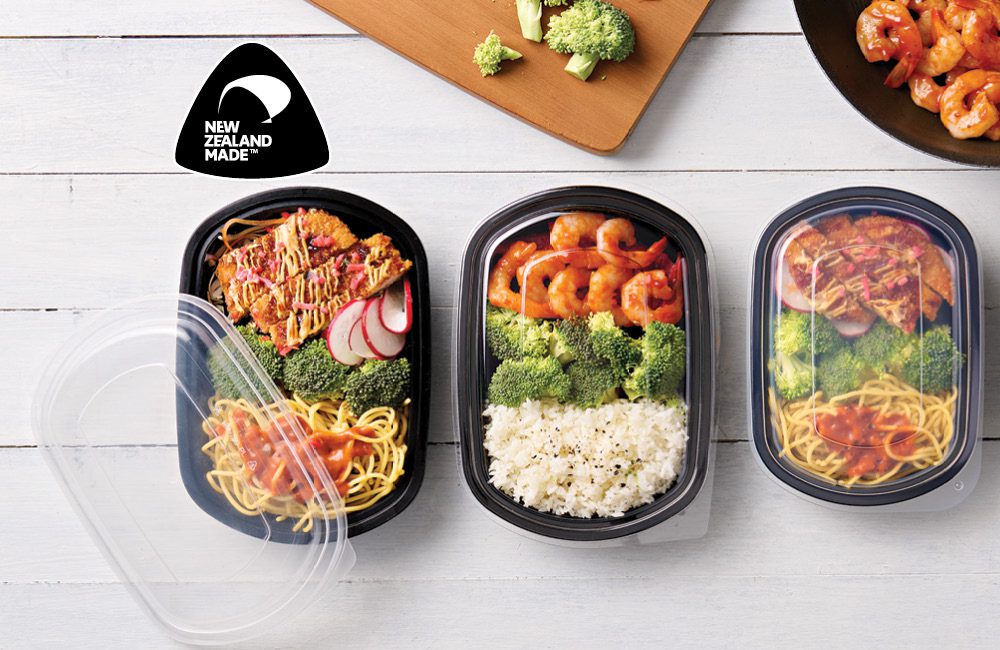 Plastic and in particular PP, continues to be a popular choice amongst food service providers because it caters so well for the requirements mentioned above. Whilst many businesses serving takeaways have tried plastic alternatives, some have ended up coming back to what they know works best in their unique circumstances.
When switching away from plastic food packaging, there are always other factors to think about and compromises to be made; some of which are not immediately obvious or are easily missed when looking at the micro rather than macro picture. Once food service providers have weighed up all the considerations, these are the types of reasons they often stick with PP:
PP is widely recyclable – recycling is one aspect of the circular economy. Kerbside recycling of PP5 is widely available (unlike some other materials that need to be taken to a commercial facility for processing. The reality is that consumers have difficulty accessing these facilities and many 'end of life' compostable products that require a commercial facility end up in landfill)
PP is easily repurposed for other uses around the home and therefore often gets one or more additional uses before being recycled (unlike other materials that will not be robust enough to be used for storing household items)
PP's performance in handling takeaway food is often superior to alternatives. When a food service business's reputation is at stake because presentation and customer satisfaction is critical to its success; packaging performance must be optimised
PP is a versatile material that can come in different colours – following on from the point above, sometimes it's important for a business to use colours that support its brand best, such as black takeaway food containers
Two of our most popular PP takeaway container ranges are Better Selection TM  and Homeal TM and you can check out all of our polypropylene (PP) packaging products here.
What are recycled PP food containers used to make?
You may have wondered what type of products the recycled PP material is used for in its next life. Recycled PP is most commonly used to make a range of non-food items; from plant pots and storage boxes to products for building foundations and road stabilisation. It is in high demand by local plastics manufacturers.
Why using PP takeaway containers should be embraced
The local economy relies on PP5 plastics to keep flowing through recycling facilities in order to make other products, such as those mentioned above, using recycled PP materials. And this is reinforced through the Government's investment in waste management to better support a circular economy.  One of the Government's initiatives in the 'war on waste'1 is investment in Resource Recovery Infrastructure, including local plastic recycling plants. Part of that effort is educating consumers on the right actions to take… something we can all help with because we all have a role to play.
You can make your own contribution to the circular economy by spreading the word to ensure that end users know what to do with their PP takeaway containers after their initial use for food. After they have finished using their containers they should:
Repurpose them – find other non-food uses for PP takeaway containers
Then recycle them – after they have checked that their kerbside collection is one of the majority of collections that accepts PP5, they should wash them well and place them in the recycle bin, not the rubbish bin, to maximise their chance of being used in the making of new plastic products containing recycled PP.
If you have any questions about PP5, our takeaway containers or would like to request some samples, please get in touch.
References:
1https://www.beehive.govt.nz/release/government-steps-action-waste-funds-recycling-infrastructure-and-expands-levy-scheme