The best dessert packaging – how to help your customers chill out with desserts to-go this summer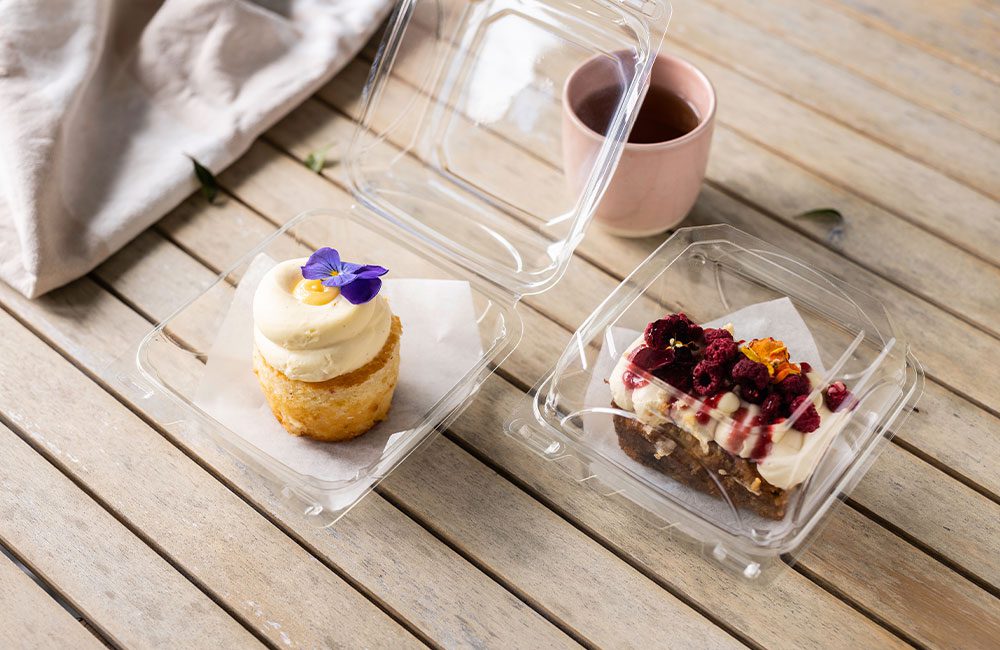 Summer is upon us and with a post-Covid-lockdown surge in picnics and outdoor activities, there is sure to be an increased demand for desserts and cold drinks on-the-go. Ice cream and smoothie cups, cake boxes and dessert packaging boxes are all the items that are going to protect and preserve the Christmas goodies and treats in store for us at BBQs and social gatherings this summer.
If you or your customers have been serving takeaways for long enough, you would know how challenging it can be to present chilled foods professionally so that they don't spoil and continue to look great after they have left the premises.  Whether new to takeaways or well-experienced, we think everyone will appreciate a few tips and reminders about how you can help create better customer experiences with cold food this summer.
What are your dessert packaging requirements?… you need to answer these questions first
Before we get into top tips for packaging desserts… it's impossible to answer questions like 'what are the packaging materials for storing desserts?' or 'what is the best dessert packaging material?' without thinking about what information you know about your customers (or end customers). If you don't have answers to these questions first, then you will need to do your best to find out by asking:
What type of dessert needs to be packaged and what are the requirements for storage? Is the nature of the dessert sticky or oily? Liquid or dry? Will it melt? Can it be heated, or does it need to be chilled or frozen?
How long are desserts going to be stored before consumption?
Where will desserts be consumed and what are the likely waste handling options available once the food packaging has served its original purpose?
What are the customer expectations around the type of packaging that is used?
What is the best packaging to match any brand values or promises?
To help you find the best packaging solution for your requirements, you can visit the materials page on our website to learn about the nature of the various materials used in our packaging ranges.  Look at this page to learn about what recycling options are available for each council area.
To ensure that you have found packaging products that satisfy all the requirements, check out the detailed information on each product page of our website. Every product featured includes icons and descriptions relating to the container's qualities for serving, storage and disposal. If you need any help with understanding these pages, we'd be delighted to answer your questions when you get in touch.
Top tips for dessert packaging and how to prevent issues
(1)  Check packaging is FIT FOR PURPOSE – getting the right container involves considering not only what shape best matches the food contents, but also a range of other factors. These factors include whether it will need to store leftovers, if the content needs to be covered with a lid, if it is going to be transported, stored in the freezer and more
(2)  Discover how ADAPTABLE the packaging needs to be – it is good to know if the packaging is likely to be used for a range of different dessert contents and therefore must cope with different storage environments like freezing or refrigeration or be filled with desserts that have unique properties
(3)  Consider PRESENTATION – if the desserts are going to be presented in their containers, you'll need to think about whether the packaging will be appropriate for the situation. If desserts are consumed directly from the packaging and there is a chance of different contents intermingling, you may like to select containers with compartments like these ones

(4)  Factor in whether desserts need to be TRANSPORTABLE – the increased demand for takeaways because of Covid lockdowns is set to continue throughout summer as people gather outdoors more than ever. Avoid unnecessary spillages by choosing suitable lids and sturdy bases
(5)  Keep SUSTAINABILITY top of mind – select packaging that supports a circular economy. Whether food packaging is recycled, re-used or composted after desserts have been eaten, these are ways to ensure that packaging's environmental impact is minimised at the end of a packaging item's life. You can be confident that all Bonson packaging fits into these categories of being reusable, compostable or recyclable
Feel free to pass these tips on to your customers if you are a packaging distributor.
Bonson's top dessert packaging ideas
To help inspire your choice of containers to package desserts, our team has come up with the following suggestions from our Enviro ranges for each of these popular summertime treats:
Just like there is a huge range of desserts to choose from, there is a large range of containers available from Bonson to package them in – click the button below to take a look!