Fussy Cat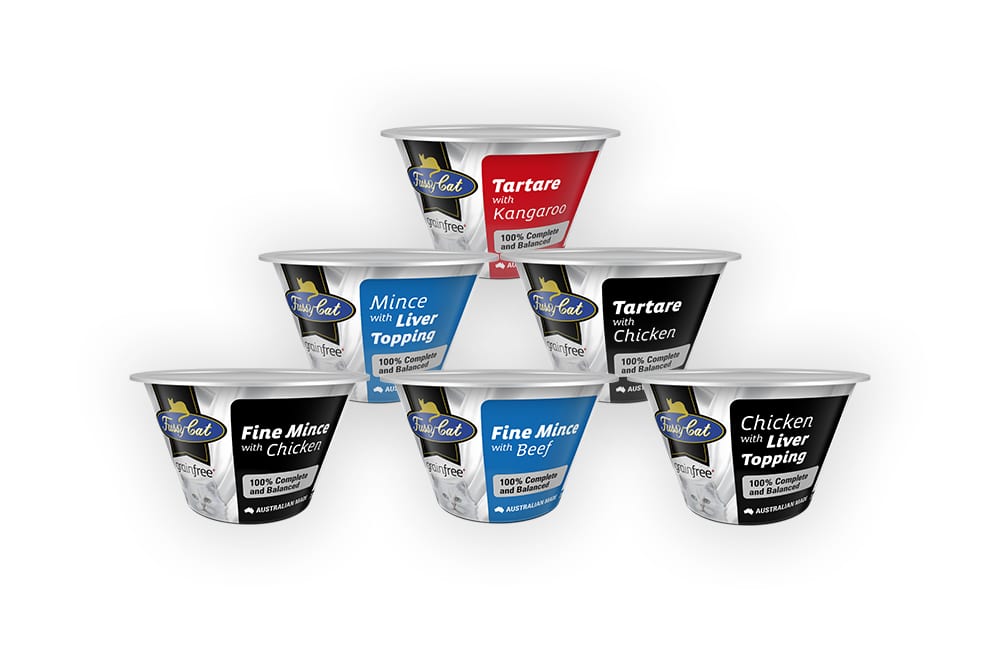 Unique packaging innovation delivers fresher products, longer
By nature, cats are fussy creatures –  it is no surprise that one of Australia's leading brands of cat food is named 'Fussy Cat'.
Owned by The Real Pet Food Company, Fussy Cat has been providing quality cat food for over 15 years and has built up a loyal following of discerning cat owners who are aware of the health benefits from feeding premium food to their feline friends. The brand's premium cat food prides itself on being a 'complete' food, offering all the vitamins and minerals for a cat's daily diet.
Adding to their popular range of fresh chilled grain-free food, Fussy Cat has recently launched its latest innovation of single-serve chilled pots, complementing the existing larger serving sizes in the range. Finding the perfect packaging for the range has been a challenge – apart from shelf appeal, single-footprint design and the ability to maximise product freshness is essential along with excellent usability that provides a hassle-free experience for both the cat owners and the fussy cats.
Making of the single-serve pot packaging
Collaborating with Real Pet Food Company on this pioneering project was Australasian packaging company Bonson. The companies worked together to custom design a polypropylene injection-moulded container that considered both the functional and aesthetic requirements of the fresh cat food.
The packaging serves the needs of the premium market by delivering high-quality branding graphics through the use of full-body-wrap, in-mould-label (IML) decoration. The IML also incorporates transparent windows to allow the consumer to see the freshness of the product. This eye-catching labelling helps the Fussy Cat range stand out on-shelf as a premium-quality offer.
The beauty of the single-serve pot container comes with the convenient serving size and the user-friendly 'sloped-wall' design that offers a less-mess approach to feeding. To extend shelf-life it also delivers cutting-edge packaging innovation in the form of high oxygen barrier properties, keeping the food fresher for longer.
Beyond the expected solutions
The Real Pet Food Company's Fussy Cat Portfolio Lead, Jarrod Edgecombe is delighted with the results of partnering with such an innovative packaging manufacturer. "Working with Bonson has been an absolute pleasure — they have been proactive and very responsive to our needs," comments Jarrod.
So, what do Bonson have in store for their next packaging innovation? Watch this space… To quote their ANZ Business Manager, Glenn Drake, "Every approach from leading food manufacturers who are looking for a food-grade packaging company to partner with, leads Bonson to push beyond the expected solutions and service boundaries to create unique advantages for every client. We believe that honouring our customers' greatest potential is what ultimately serves our own."