Jimbo's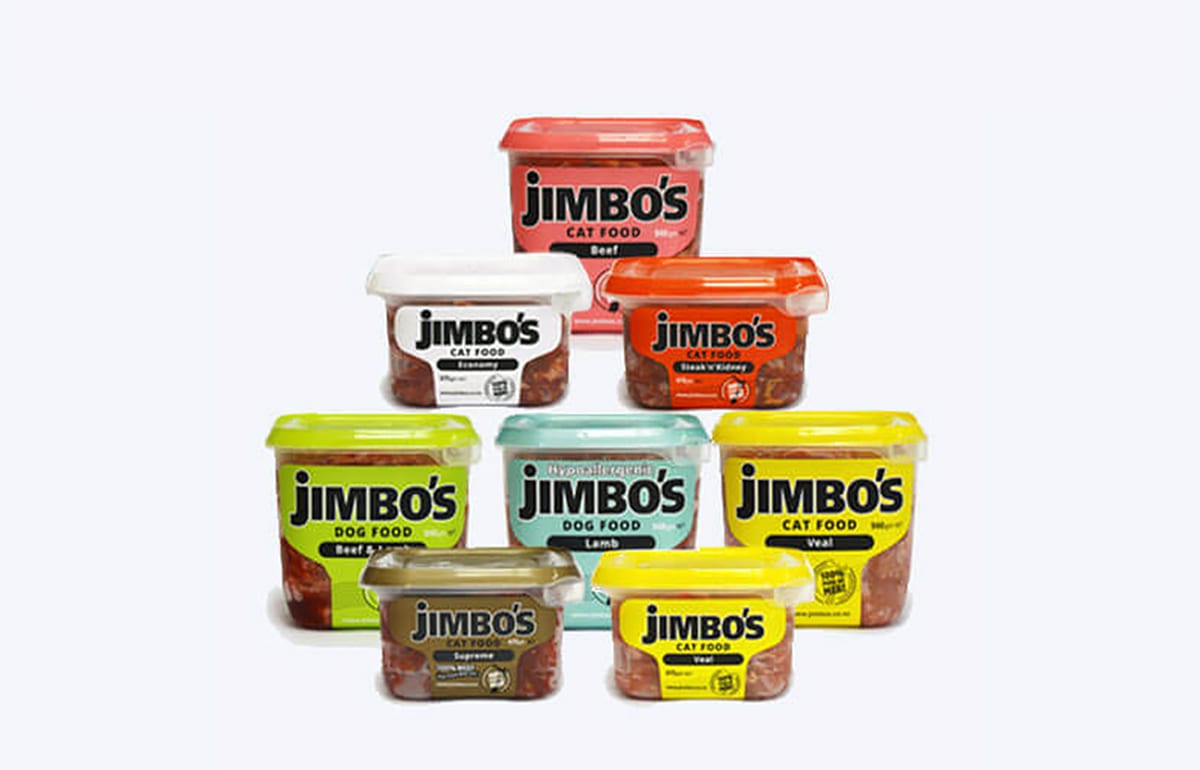 Award winning packaging reflects Jimbo's superior quality
After a long search Bombay Petfoods, the name behind the iconic Jimbo's brand, approached Bonson Industrial to consolidate their packaging into a single design that achieved the perfect balance of aesthetics, function, quality and cost efficiency.
Manufactured by Bombay Petfoods, Jimbo's was the vision of Jim Allan to provide New Zealand's pet owners with a fresh premium pet food that they could trust to support the wellbeing of their pets. Jimbo's, named after Jim himself, has since become New Zealand's leading chilled raw pet food brand. According to Dave Allan, General Manager at Bombay Petfoods, the company's success quite simply comes down delivering a consistently high quality product – and the packaging is an essential part of this.
The challenge
For several years, Jimbo's has been available in multiple container sizes. To enhance productivity and efficiency, Bombay Petfoods wished to consolidate Jimbo's packaging into a single design – from improved shelf appeal to enhanced durability and handling,  the change should result in a more upscale, functional package that was in line with their customers' preferences.
"It was a big decision to change our packs, so we started with our current pottle. From there we took the time to review the feedback from our customers regarding what they did and didn't like about the existing packaging. Only then did we go into design mode," says Allan.
After eighteen months of searching for a viable long term solution that could satisfy the needs of the company and their customers, Bombay Petfoods found a partner in Bonson Industrial.
True partnership that delivers a unique advantage
"From our initial meetings it became clear quickly that Bonson understood what we were trying to achieve," confesses Allan. A tour of Bonson Industrial's manufacturing facilities only reinforced that they had the capability to deliver the packaging solution that Bombay Petfoods were after. "We were blown away by their operation and their unrelenting focus on quality."
Bonson Industrial oversaw the development of the new Jimbo's packaging from concept design and product prototyping all the way through to plastic injection moulding. "Bonson really pushed the boundaries, in terms of design and function, to try and give us everything on our wish list."
However, according to Allan, there was a lot more going on behind the scenes. "The team at Bonson also proved to be a valuable source of insight and direction throughout the process, even working with us to optimise our machinery to work better with the new packaging."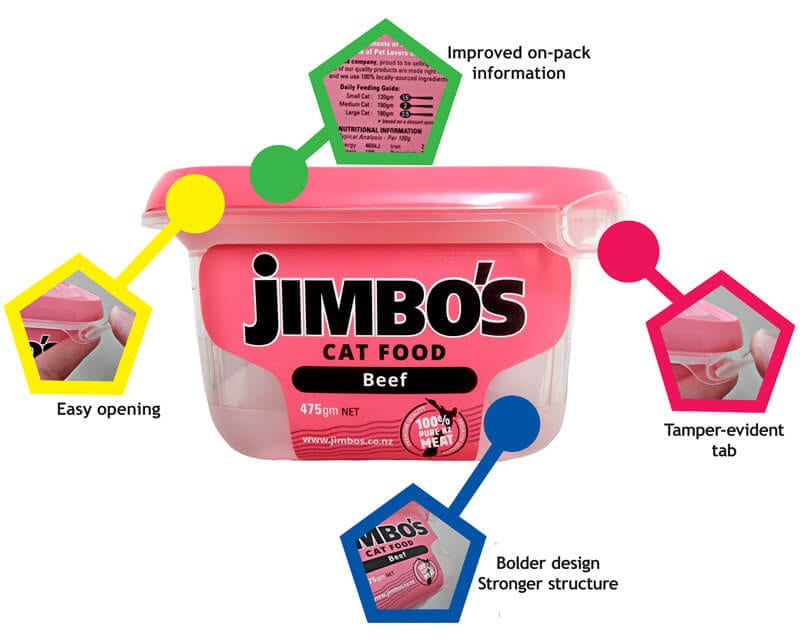 Award winning design hits the mark
Jimbo's a hit at the 2015 Australian Packaging Design Awards and the World Packaging Organisation Awards
Jimbo's recent success at the 2015 Australian Packaging Design Awards and the WPO Awards has further highlighted its superior quality and design.
At the Australian Awards, Jimbo's and Bonson Industrial were proud to receive a silver award in the food category, and three high commendations for accessibility, sustainability and consumer experience and emerging technology. In addition to the prestigious Australian Awards, Jimbo's also landed a sustainability award certificate of merit at the World Packaging Awards.
Single footprint brings efficiency
The new and improved Jimbo's packaging all share a single design footprint, regardless of volume. This has helped streamline the filling lines at Bompay Petfoods, as the company no longer needs to adjust the machinery to accommodate multiple container and lid sizes. Having a single footprint means that the packaging is also easier to stack for transport and on store shelves. "The new design has helped improve our overall supply chain logistics, because we can now make better use of storage space and transportation is more efficient thanks to better pallet utilisation,' explains Allan.
Jimbo's new single footprint packaging also boasts a wider face for improved filling. Previously, when the meat was pumped into a container, there would be spillages between container fills that often resulted in meat getting caught underneath the lids.  Unfortunately the only way to correct this was to pause production to do a manual clean. "Since switching to the wider face design this has thankfully become non-event," confirms Allan.
Stronger and long-lasting
Jimbo's is available in 339 supermarkets across New Zealand, so the product has to travel well from Bombay Petfoods' Auckland location. The company therefore decided that it was important to add strength to the design in order to reduce breakages for a longer-lasting pack. According to Allan, "The new packaging actually contains less plastic, so all this extra strength is thanks to the smart way it has been designed." This is good news for Jimbo's customers for whom 're-use' is an important factor.
In-mould labelling technology improves shelf appeal
In the past Bombay Petfoods suffered alignment issues when it came to the application of labels. The new Jimbo's packaging utilises in-mould labelling (IML) technology, which creates a more visually polished look that speaks to the quality of the product. Thanks to IML, the label is fused directly onto the surface of the plastic moulding.  "With IML we can now decorate virtually every surface on a container, including the lid and bottom, opening up more space for us to include valuable customer information."
On the environmental front, because the label is now an integral part of the packaging the entire container, label and all, can be recycled together.
Easy opening and quality sealed
The new Jimbo's packaging features easy open/easy close tamper-evident lids with tight-fitting, high-performance seals to assure maximum product freshness.
To open a Jimbo's container, a tab at the corner of the lid must be bent downward. Once the tab is in the open position it remains upright, alerting customers that the container's seal has been compromised. "While the tamper evident seal was not something that our customers asked for, we wanted to include it because it reinforces our commitment to delivering a high quality end product," confirms Allan.
Beyond the expected
"Choosing to redesign your entire packaging line is no small undertaking, and at times things can get pretty intense. Bonson not only shielded us from a lot of this stress and pressure, they also delivered what has proven to be a fantastic final product," says Allan.