Today, ~95% of NZ's population has access to PP plastic recycling collection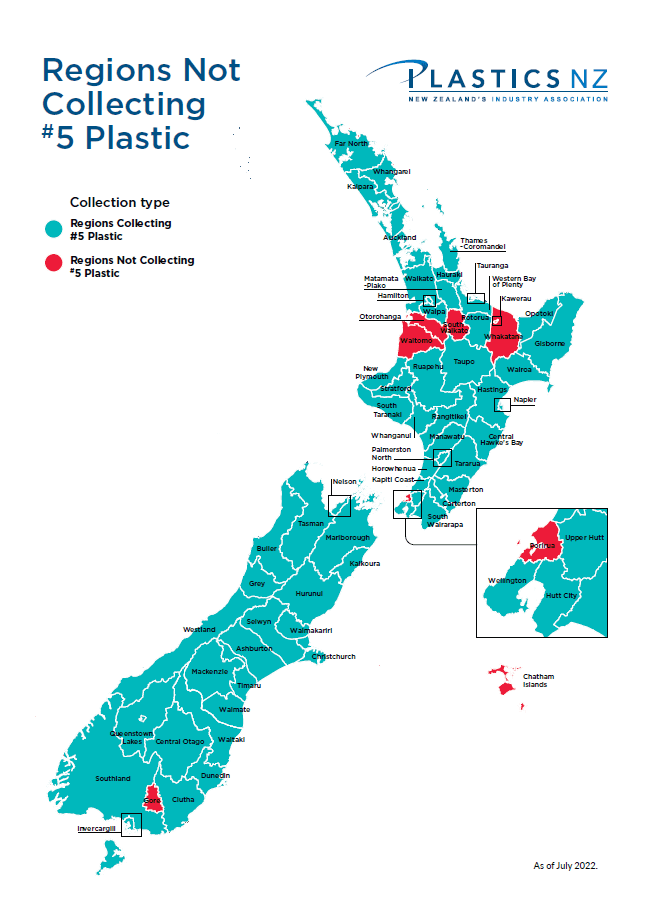 Image source: Polypropylene recycling #5. Plastics NZ.
Closing the loop! More and more New Zealand councils are collecting PP plastic for recycling
Polypropylene (PP), plastic number 5, is one of the most versatile and valuable plastic resources on earth — benefiting generations of humans through packaging, food safety, housewares, medical supplies and more…
Here in New Zealand, we're on a mission to keep this valuable resource in the circular economy. Standardising the kerbside recycling collection system is a big focus of the 'Advancing the Circular Economy for Plastics' programme funded by the Ministry for the Environment. The goal is to empower everyone in New Zealand with accessible facilities to play their part in closing-the-loop.
Bonson is a close member of the working group under this programme. We are proud to see that more and more councils are recognising the sustainability potential of valuable plastics and are taking action.
Today, more than 84% of our councils are collecting PP plastic for recycling — that is about 95% of New Zealand's population!
Here's a snapshot of trends in PP plastic recycling in New Zealand as of today, and why we think PP plastic is the answer to sustainable packaging:
Today, about 95% of Kiwis have access to PP recycling collection facilities. And the number is growing!
Local reprocessing capacities of recycled PP plastic has roughly doubled in the past four years
More brands are recognising PP as a sustainable packaging option, including major grocery retailers
Demand for recycled PP plastic is rising
Only 8 councils  are not collecting PP material, which are: 
South Waikato District Council
Published on 31 Mar 2022.
References:
Plastics New Zealand. (n.d.). Polypropylene Recycling #5. https://www.plastics.org.nz/environment/recycling-disposal/polypropylene-recycling-5
Plastics New Zealand. (2022, Mar). Creating a Circular Economy for Recycled Polypropylene in Aotearoa New Zealand. https://www.plastics.org.nz/images/documents/Environment/Circular_Design_Economy/Maps/Polypropylene_Progress_Report_Summary.pdf